Superior Service, Personalized Attention
Welcome to Purple V Soaps! Where being passionate about creating handmade bath and body products is an everyday occurrence!

The Love of Family, Connectivity and Creativity...

Dedication, Love, Connectivity and Creativity are the keywords to express the dynamics of my family. From painting, to gardening, to soaping; we always create and find ways of connecting, supporting and being an integral part of helping and supporting each other, as well as our local community in all our endeavors.

So, how did Purple V Soaps come to fruition, you may ask? It all formed from a deep yearning of needing to supply my family with natural products that we use daily to nourish our skin. Not to mention, I had a hankering for wanting to use my hands, even more so than I already do, to create wholesome and natural products for not only my family, but for the world! When we discovered few years back that our daughter had developed a mild case of eczema, I sought out to do tons of research on the topic, as well as implementing a plan of action to heal and calm her skin through natural regimens. With great strides, and minor challenges, her eczema has remained calm, steady and almost non-existent by using select products through Purple V Soaps. The fire that had driven me years ago to begin organic vegetable gardening, is the same fire that drives me today to produce quality, handcrafted bath and body products to nourish and revive your body, mind and soul!

Our products are handcrafted using high quality oils/butters, therapeutic grade essential oils and premium fragrances for select products. From the soaps to the bath bombs, small batches of each product are made with love, care and attentiveness. The cold process method is used when making all of our soaps. We allow 4 to 8 weeks for the cure time before any of the soaps make their debut to center stage. You certainly WON'T find any of these ingredients in our products: Phthalates, SLS, Parabens, Triclosan, Petrolatum, and Formaldehyde releasing preservative (just to name a few).

Why Natural & Handmade Soap Products?

Simply put: Our Skin is our largest organ, and absorbs a great percentage of what we apply to it. If you haven't discovered the awesome and amazing benefits of using real soap that is carefully handcrafted with ingredients that are easily recognizable, not to mention, NATURAL; you've certainly come to the right place for your skin care needs! Why not Lather, Love and Nourish your skin with natural products packed with healthy and essential benefits?!

Peace, Love and Soap!
Kendra Bullard, Soap Artisan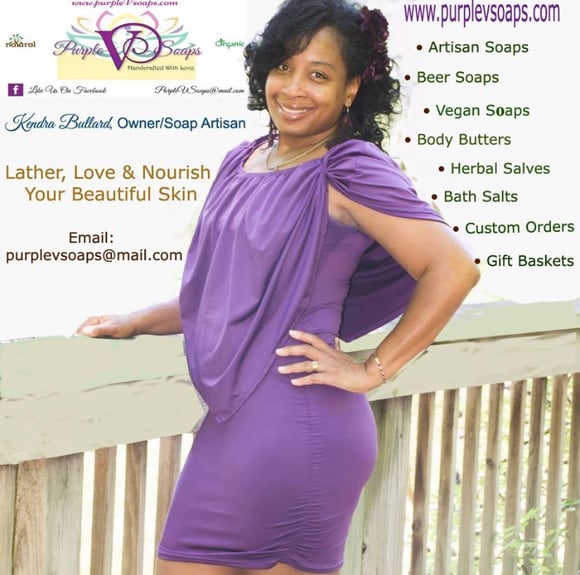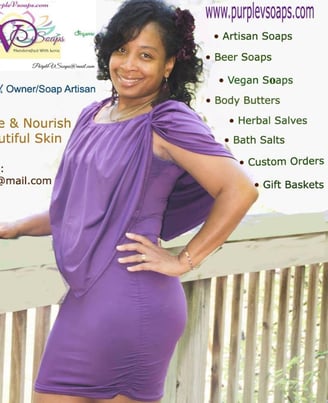 My soaping journey began in 2016. Years prior, I had taken a deep dive into researching, and learning about the properties of essential oils, raw butters, carrier oils, herbal plants, and the amazing benefits they can have on our skin's health.
Considering my upbringing was deeply rooted in producing things from scratch, such as cooking, creating herbal remedies for colds, to having a zeal and thirst for entrepreneurship; immersing myself into the soap making world simply runs parallel to my core stance on health and wellness for the body, mind and soul.


P.S.
If you're wondering, purple has undoubtedly been my choice of color since my childhood. It was only fitting that I incorporated it into my soap business.
Thank you for stopping by to browse my website!
Kendra Bullard, Owner/Soap Artisan
Email: purplevsoaps@mail.com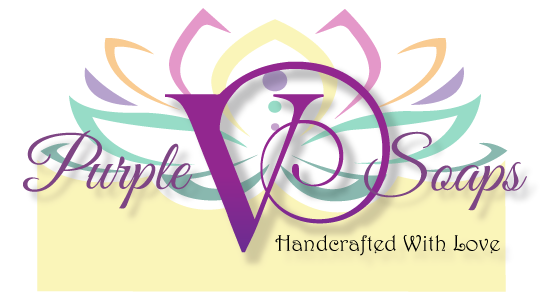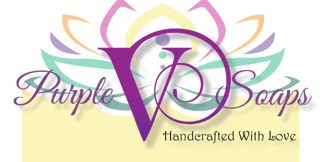 Hours:
Monday 10:00am - 5:00pm
Tuesday 10:00am - 5:00pm
Wednesday 10:00am - 5:00pm
Thursday 10:00am - 5:00pm
Friday 10:00am - 5:00pm
Saturday 10:00am - 5:00pm
Sunday 1:00pm-5:00pm
Copyright 2023. Purple V Soaps All rights reserved